STELIA Aerospace,
a "responsible" aeronautical player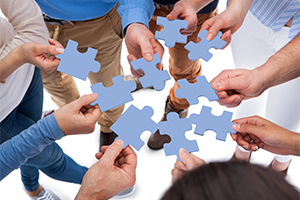 Encouraging our diversity
STELIA Aerospace has set itself the goal of combating all forms of discrimination to ensure equal opportunities for everyone. Diversity is a lever allowing social cohesion to be reinforced and helping the company to accomplish its mission.
The employees of STELIA Aerospace are all different. However, they all have in common that they contribute to building up STELIA Aerospace and, to this end, all have a common goal: "To offer the best service and results for the company's benefit".
STELIA Aerospace is particularly committed to advancing women in the workplace and developing female talent. We are also offering guidance for business on how to empower women in the workplace, marketplace and community. STELIA Aerospace is in the scope of the new Gender Pay Gap reporting and has achieved a score of 89/100 above March the 1st 2020. We are proud of this result and we actively pursue the mainstreaming of gender issues within the company. Its subsidiary, STELIA Composites, has also published a score of 89/100.
Assuming our responsibilities
We are concerned by the environment and the society in which we live and work. STELIA Aerospace's goal is to publicly promote societal responsibility and environmental protection.
Acting for all
Via the initiatives supporting societal responsibility, STELIA Aerospace employees provide assistance where it is needed. We work, for example, with training institutes, charities and struggling companies.
Assisting employee development
We are continually on the lookout for talent within our company. The types of responsibilities and missions entrusted to our members of staff allow them to fully express their potential. Each member of staff thus has the opportunity to develop within STELIA Aerospace.
Developing our attitude of eco-responsibility
STELIA Aerospace is vigilant in adopting a responsible and economical attitude to global resources. As an example, we already use certain "green" technological advances in our manufacturing and pay extremely close attention to our environmental impact and the recycling of our unused materials.