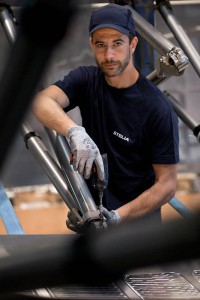 The aeronautical industry, which combines different types of work and expertise, places the skills and the development of men and women at the centre of its human resources policy. STELIA Aerospace is also committed to this.
Our actions concerning training, mobility and identifying and recognising talent are initiatives that enable each person to create their own opportunities and make their career aspirations a reality.
Transfers between work positions and between STELIA Aerospace fields of expertise offer career prospects that open up new challenges to nourish your ambitions.
At STELIA Aerospace, we support and encourage enthusiasm and personal development to enable you to face your future challenges. Professional reviews allow your human resource staff to provide you with personalised assistance in building your career and realising your full potential.