STELIA Aerospace celebrates the 5th anniversary of its site in Mirabel, Quebec and delivers 50th Global 7500 jet fuselage section to Bombardier
11 July 2019
Inaugurated in June 2014, the STELIA Aerospace plant in Mirabel, Québec, one of the group's two sites in North America, celebrated its 5th anniversary today, in the presence of Cédric GAUTIER, CEO, Jean-Pierre COUSSERANS, Managing Director of STELIA North America, several members of STELIA Aerospace's Executive Board, and Michel OUELLETTE, Senior Vice President, Program Management and Engineering, Bombardier Aviation.
STELIA North America specializes in the design and assembly of complete central fuselage sections for Bombardier's Global 7500 jet, entirely equipped with their hydraulic and electric systems.
STELIA North American teams moved to the Mirabel site in 2014 and after extension works in January 2019, all 250 employees are now under the same roof.  This anniversary is also the occasion to celebrate the delivery of the 50th Bombardier Global 7500 jet fuselage section, which will take place later this month.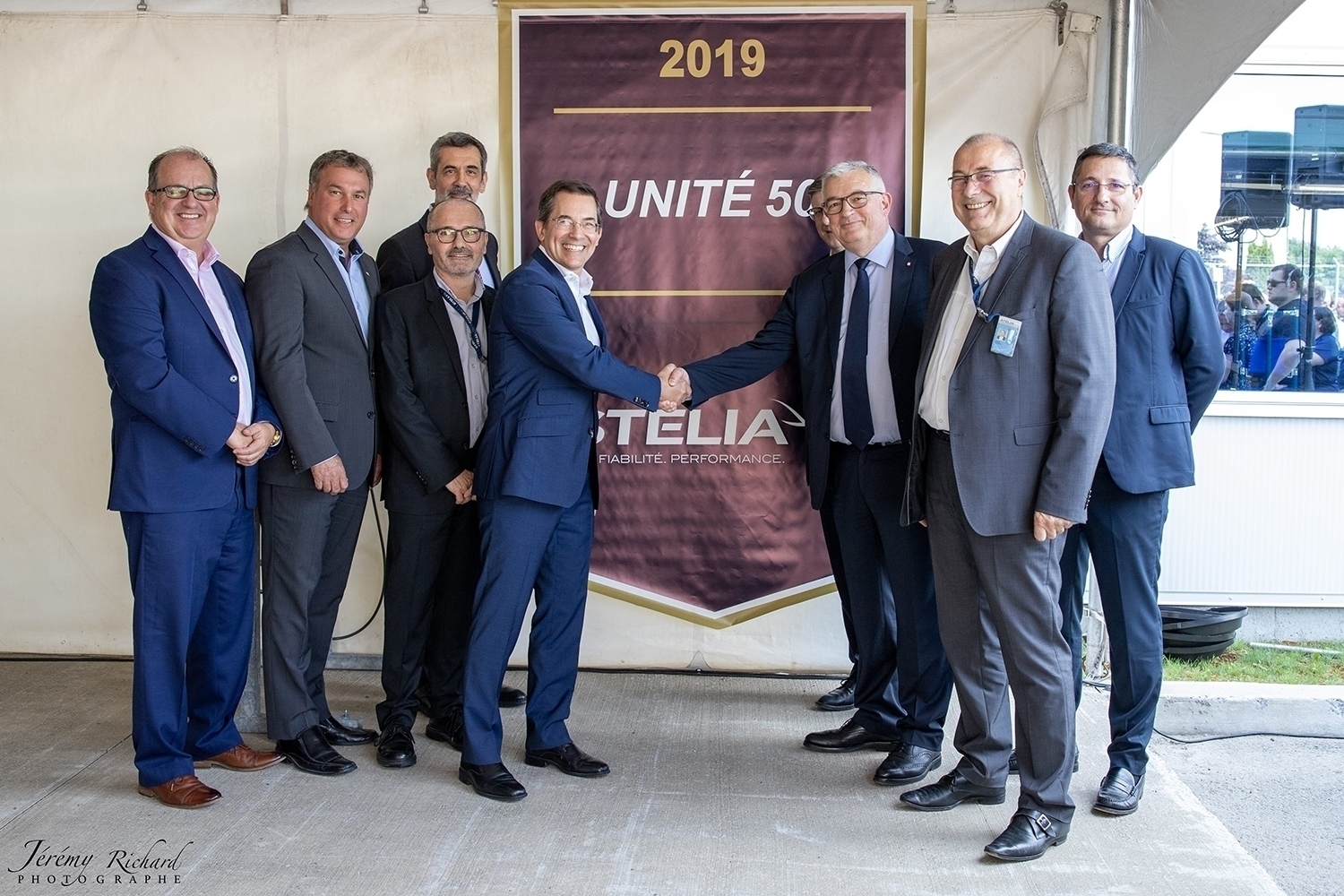 STELIA Aerospace has indeed been a partner of the Canadian aircraft manufacturer for 8 years, from the design and delivery of the first sections coming from Méaulte in the North of France and destined for the test aircraft, to the first flight of the Global 7500 aircraft in November 2016 and the recent type certification by the Canadian transport authorities, the FAA and the EASA.
Cédric GAUTIER, CEO of STELIA Aerospace, said: « We are very happy to celebrate today the 5th anniversary of our site in Quebec, which represents STELIA Aerospace in Canada. We are also proud to associate with this event our customer Bombardier, with whom we have developed strong links since 2011, thereby developing our business in Canada. The Global 7500 is a fantastic and thriving aircraft, supporting job creation and good economic health in the region. The delivery of the 50th Global 7500 jet fuselage section marks a major milestone in the history of our subsidiary. It demonstrates once again the quality of our team's work and provides a great sense of pride among them ».

« STELIA Aerospace is a world-class supplier that has worked closely with Bombardier in the development, certification and entry-into-service of the Global 7500, Bombardier's flagship aircraft. The Global 7500 aircraft is changing the landscape, revolutionizing the market and shaping the future of business aviation and we are delighted that STELIA Aerospace has become the largest local employer in our supply chain, » said Michel OUELLETTE, Senior Vice President, Program Management and Engineering, Bombardier Aviation.
About STELIA Aerospace:
With a turnover of 2,2 billion euros and 7,000 employees worldwide (4,500 in France and 2,500 in North America, Tunisia and Morocco), STELIA Aerospace is one of the world leaders in the field of aerostructures, pilot seats and Business Class and First Class passenger seats.
STELIA Aerospace designs and manufactures the front fuselage sections for the entire Airbus family, as well as fuselage sections and specific sub-assemblies for Airbus, fully equipped wings for ATR, fully equipped central fuselages for Bombardier's Global 7500 aircraft, and complex metallic and composite aerostructure parts for Boeing, Bombardier, Embraer, Northrop-Grumman…
About Bombardier:
With over 68,000 employees, Bombardier is a global leader in the transportation industry, creating innovative and game-changing planes and trains. Our products and services provide world-class transportation experiences that set new standards in passenger comfort, energy efficiency, reliability and safety.
Headquartered in Montreal, Canada, Bombardier has production and engineering sites in 28 countries as well as a broad portfolio of products and services for the business aviation, commercial aviation and rail transportation markets. Bombardier shares are traded on the Toronto Stock Exchange (BBD). In the fiscal year ended December 31, 2018, Bombardier posted revenues of $16.2 billion US. The company is recognized on the 2019 Global 100 Most Sustainable Corporations in the World Index. News and information are available www.bombardier.com or follow us on Twitter @Bombardier. Bombardier and Global 7500 are registered trademarks of Bombardier Inc. or its subsidiaries.
Press Contacts
Séverine KACI, Head of Communication
Tel : +33 (0)6.26.11.35.38 – severine.kaci@stelia-aerospace.com
Caroline BROWN, Media Relations
Tel : +33 (0)6.22.08.86.23 – caroline.brown.rp@gmail.com

Download the press release
Media contact
Caroline BROWN, Media Relations
Tél : +33 (0)6.22.08.86.23 – caroline.brown.rp@gmail.com