STELIA Aerospace Composites RECOGNISES A NEW HYDROGEN STORAGE CONTAINER
8 November 2016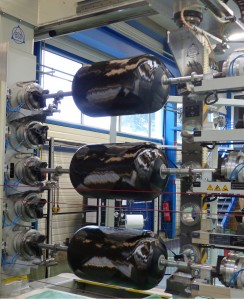 STELIA Aerospace Composites has just recognised its new generation of very high pressure 140 litre container for hydrogen storage.
This new container, made of carbon fiber composite material, and necessary for the fuel cells used for electrical motorisations, meets all the tests and trials required by regulation and certification authorities.
It extends the range of 3 litre containers currently under experimentation on hydrogen electrical bicycles.
Originating from STELIA Aerospace's expertise in aeronautics and space, this new technological solution enables STELIA Aerospace Composites to propose an essential solution for fuel cell electric thrust, destined to all markets: aeronautics, automobile, trucks, buses, boats…
This technology of the future notably offers much more autonomy for electric vehicles than today (over 500 km). Many manufacturers have already started adopting it and its deployment will begin in parallel with the implementation of refilling stations. Over 600 stations will be provided throughout France by 2030.
STELIA Aerospace offers global solutions for aeronautical manufacturers and airlines, and is one of the world leaders in the fields of aerostructure and seats for pilots and first-class and business class passengers. With a turnover of 2 billion euros and over 6,300 employees worldwide, STELIA Aerospace accompanies the major players in the aviation industry, such as AIRBUS, ATR, Boeing, Dassault, Etihad, Singapore Airlines, Thaï Airways…
A 100% subsidiary of STELIA Aerospace, STELIA Aerospace Composites is a major actor in the field of composites in Europe and a tier 1 partner of Aeronautics, Space and Defence actors. Its skills cover design, justification, industrialisation and manufacturing, for structural subassemblies, complex elementary parts, and cabin furnishing.
Press contact
Séverine KACI, Communication Director
+33 (0)6.26.11.35.38 – severine.kaci@stelia-aerospace.com
Media contact
Caroline BROWN, Media Relations
Tél : +33 (0)6.22.08.86.23 – caroline.brown.rp@gmail.com