STELIA Aerospace and its partner staffing agencies are working together for the prevention of industrial accidents and the safety of temporary staff
16 September 2019
For the past several months, STELIA Aerospace has been developing measures to improve its operating processes with staffing agencies, highlighting an essential issue one of STELIA Aerospace group's priorities, Safety.
The works and studies undertaken have materialised through the creation of a Safety Charter, signed by STELIA Aerospace and seven staffing agencies.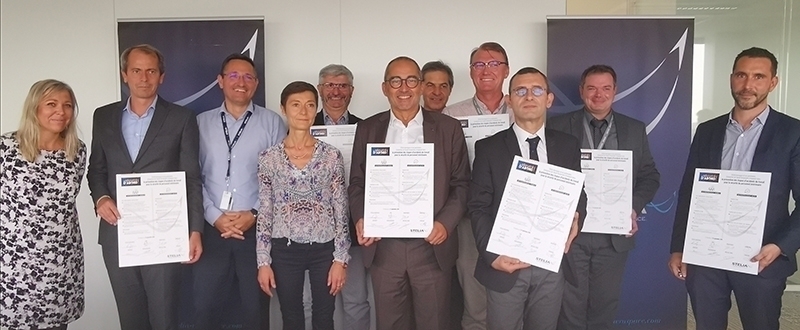 Among the measures contained in this Charter:
Regular meetings between staffing agencies and STELIA Aerospace HSEs managers (Health, Safety and Environment), in order to promote together risk prevention and co-pilot the action plan;
Create awareness among agency staff, through the organisation of HSE days;
Benchmarking and sharing of best practises between staffing agencies, in order to develop a « safety » culture;
Exchanges and events about risk prevention inside the staffing agencies;
Regular training sessions so that temporary workers always operate in the best conditions;
Participation of staffing agencies in industrial accident assessments, so that they can accompany STELIA Aerospace in the implementation of efficient and lasting corrective actions.
Cédric GAUTIER, CEO of STELIA Aerospace, said: With this Charter, STELIA Aerospace is committed to guarantee the best work and safety conditions for temporary workers on our sites. Prevention and safety are at the heart of our priorities and this initiative regarding risk prevention will reinforce our engagements with our partner staffing agencies ».
About STELIA Aerospace:
With a turnover of 2,2 billion euros and 7,000 employees worldwide (4,500 in France and 2,500 in North America, Tunisia and Morocco), STELIA Aerospace is one of the world leaders in the field of aerostructures, pilot seats and Business class and First class passenger seats.
STELIA Aerospace designs and manufactures the front fuselage sections for the entire Airbus family, as well as fuselage sections and specific sub-assemblies for Airbus, fully equipped wings for ATR, fully equipped central fuselages for Bombardier's Global 7500, and complex metallic and composite aerostructure parts for Boeing, Bombardier, Embraer, Northrop-Grumman…
Press Contacts

Séverine KACI, Head of Communication
Tel : +33 (0)6.26.11.35.38 – severine.kaci@stelia-aerospace.com
Caroline BROWN, Media Relations
Tel : +33 (0)6.22.08.86.23 – caroline.brown.rp@gmail.com

Download the press release 
Media contact
Caroline BROWN, Media Relations
Tél : +33 (0)6.22.08.86.23 – caroline.brown.rp@gmail.com