STELIA Aerospace delivers to Airbus Canada, on Thursday 10 June 2021, the first A220 nose fuselage section, finalized on its Mirabel site.
11 June 2021
Just over a year after the A220 Bombardier operations resumed on the STELIA Aerospace site in Saint-Laurent, a dedicated new facility was built on the Mirabel site and the transfer of the Saint-Laurent activities is on track.
Around one hundred people are already working on the A220 on the Mirabel site, in the 16,100 m² brand new building. As a result, the very first A220 nose fuselage assembled by STELIA Aerospace in Mirabel was delivered today to the Airbus final assembly line, as per planning.
"We are very proud of the work accomplished by all our employees and external collaborators. Carrying out a first delivery on a brand new plant which was built in 10 months, while ensuring continuity of our activities since the A220 operations resumed on the Saint-Laurent site in February 2020, demonstrates a rock solid engagement. Despite a difficult and complex context due to the pandemic, STELIA demonstrated agility and a great know-how in order to deliver to Airbus on time and with quality!" Hugo Brouillard, Head of exploitation and Head of Operations, STELIA Aéronautique Saint-Laurent.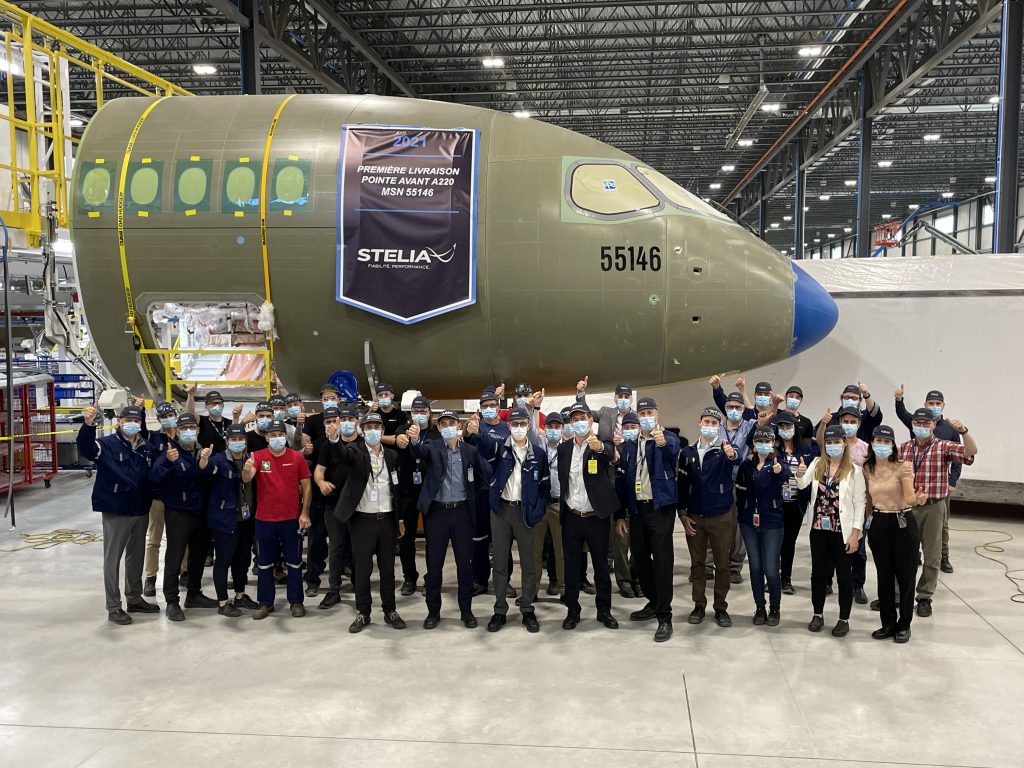 STELIA Aerospace is fully committed to accompany the A220 success story.
Media contact
Caroline BROWN, Media Relations
Tél : +33 (0)6.22.08.86.23 – caroline.brown.rp@gmail.com