STELIA Aerospace is awarded for the quality of its support
5 April 2016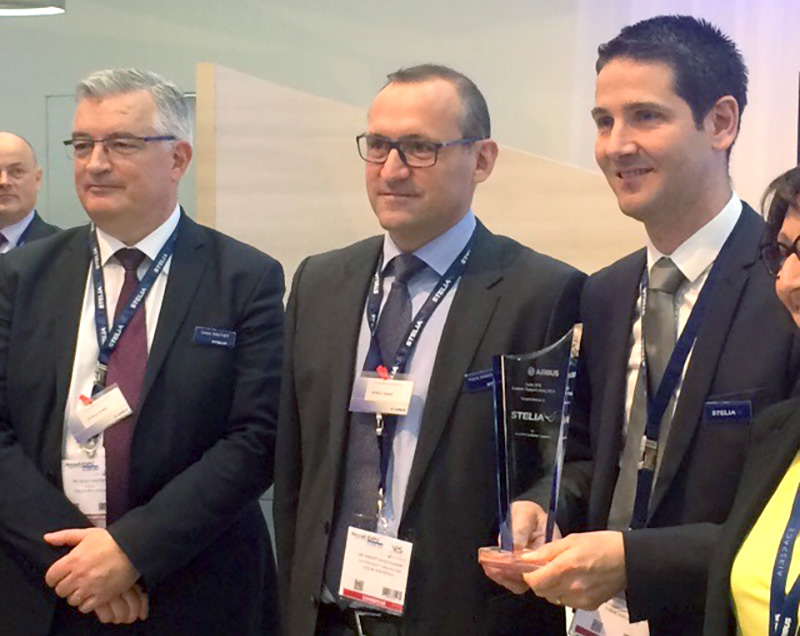 STELIA Aerospace has been recognized in the Airbus Supplier Support Rating on the first day of the Hamburg Aircraft Interiors Expo 2016 for the quality of its support, and received the award for:
"Excellent Customer Support Performance"
This rating rewards STELIA Aerospace as the only seat BFE supplier and is mainly based upon the Airlines' perception, as well as Airbus' perception and Suppliers' performance indicators. It assesses 3 fundamental areas:
Product: Reliability, Documentation, Technical assistance (day-to-day and in-service problem solving).
Service: Repairs performance, Spares performance, Communication, Warranty management, Flexibility.
Cost: Operating cost and cost of spares/repairs.
The award ceremony took place at the Aircraft Interiors Expo in Hamburg, this morning, Tuesday 5th April 2016 from 10:00 to 11:00, at the Airbus booth. Attending the award ceremony on behalf of STELIA Aerospace were:
Cédric Gautier, CEO
Thierry Kanengieser, Vice President Cabin Interior,
Eric Bouvier, Head of Customer Support
On the back of this performance, STELIA Aerospace is expanding its range of products and services to offer Customised Support Packages to our customers. Thierry Kanengieser, VP Cabin Interior, commented:
"I am very pleased that for the third time in a row, STELIA Aerospace has been awarded as Best BFE Seat supplier for its Customer Support Performance. This award is dedicated to the STELIA Aerospace team who remain involved every day to meet our customers' satisfaction! We will keep on working hard to innovate, develop, deliver and support products and services to our worldwide customer base".
Press Contact
Séverine KACI, Communication Director
+33 (0)6.26.11.35.38 – severine.kaci@stelia-aerospace.com

Download the press release
en_US
Media contact
Caroline BROWN,
+33 (0)6.22.08.86.23 – caroline.brown.rp@gmail.com
Olivia BAUMANN, +33 (0)6 32 26 16 41 – olivia.bauman@airbus.com